Boyce Becomes OCREE President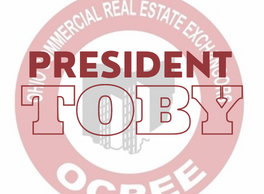 Toby E. Boyce is to become the Ohio Commercial Real Estate Exchangors President during its annual Holiday party on December 8 at York Golf Club in Columbus, Ohio.
Ohio Commercial Real Estate Exchangors, or OCREE, is a commercially-focused real-estate exchange group that facilitates transfer of real property through like-kind exchanges and the like. OCREE dates back to 1959 when Larry Horn served as the organization's first president.
Boyce is a real estate consultant with Coldwell Banker Realty and has been licensed since 2006. He holds several real estate designations and is a licensed broker in the state of Ohio. Boyce is a native of Danville, Ohio, and earned his Bachelor's Degree from University of Mount Union and Master's Degree from Heidelberg University.
Boyce has been married to Gretchen for 19 years and the couple have one daughter, Olivia, 6.
OCREE meetings are held the second and fourth Thursday of each month at 8:30 a.m. The events are held at York Golf Club in Columbus, Ohio.